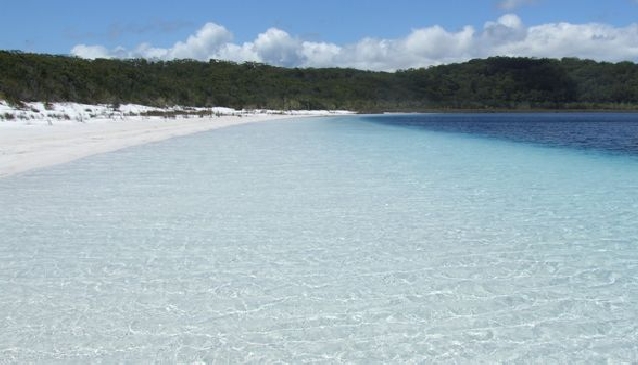 Three Days on Fraser Island...
Inspiration
Fraser Island is a must for whale watching
I had always envisaged seeing Fraser Island, located just off the Sunshine Coast, and staying at the luxury eco resort Kingfisher Bay. Sometimes though, life throws you a curve ball and when opportunity knocked on my door (courtesy of Lucy at Tribal Travel Noosa) to visit the island with her on a 3 day guided tour with TRAILBLAZERS, I had to forget my five star dreams and make like a backpacker. And boy, am I glad I did!
Trailblazers offer 2 and 3 day guided tours of Fraser Island. As previously mentioned we were booked on a 3 day tour and for $300 you get accommodation, all meals provided and a dedicated tour guide for the full 3 days. Extras include island access for $60.00. There are never more than 20 in a group, which keeps the tour intimate, and not feeling too much like a school journey where you have to line up and hold hands so no one gets lost!
On the morning of departure I had one bag packed with towels, swimwear, a couple of sweatshirts, shorts and a raincoat. Beach shoes are another essential. Fraser Island attracts the rain but it can change from torrential downpour to blazing sunshine within minutes so be sure to pack for all weather conditions.
Brett was our tour guide for the duration of our stay. He has been on Fraser Island for the past 14 years and couldn't be more passionate about it. He loves it here, and there isn't much that he doesn't know about the history, the wildlife, the weather and the ocean. But more of that to follow...
We said goodbye to our other halves and kids as we got onto the bus and met the group we'd be travelling with for the next 3 days. It can be a bit daunting for some people but I was quite excited about meeting new people. There were 2 American girls backpacking in Australia and a German family of 4 plus us - which made the group a total of 8. That's the beauty of these tours, you don't know who will be in your group and it's a chance to step out your comfort zone, meet new people from around the globe and have shared experiences.
We drove inland to get to Inskip Point (where you get the ferry to Fraser) seeing kangaroos along the way. A stop off in Rainbow Beach in case anyone wanted essentials - and then on to the ferry - which takes minutes as its only 1.8 km to the island.
When you get off the ferry it's a fantastic feeling driving along 75-mile beach taking in the stunning rugged coastline that stretches for 123 km. The east coast is the highway of Fraser Island and one of the most attractive highways I have ever encountered! Fraser is 240 meters above sea level and is the largest and oldest coastal dune system in the world.
"Anyone got any music?" Brett asked. Well no need to worry about that - part of Brett's tour is some fantastic music on offer to soundtrack our trip and before we knew it the Beach Boys "Everybody's gone Surfing" was pumping! Driving along the "highway" Brett suddenly stopped. On the beach there was a sea snake. "A sea snake is the most venomous snake in world", Brett told us, as he calmly picked it up and got it to show us its 2mm fangs – yikes!
Fraser Island is a must for whale watching. The migration season happens between June and October when the whales migrate north. They spawn, then turn around and head back south. During this time on the island always keep an eye out for the spouting whales. Dolphins are also to be seen carving their way through the ocean.
We then saw some of the plentiful bird life that is on Fraser. One of the funniest little birds on the Island is the Red Cap Pluver. Even though this tiny bird can fly, it chooses not to and has the fastest legs on Fraser.
Back on the bus, we headed to Base camp. The Verve was now playing; the wind was in my face as we drove along the coastline – wow what a feeling of freedom! On offer when we arrived were dormitories in the Beach House. This was the bit I was slightly dreading, (Mrs 5 star was starting to rear her head) but I needn't have worried. The rooms were clean, the beds comfy and because we had such a small group we were put into base camp rather than the beach house where we had a 4 man (posh) tent, with a wooden floor, its own shower and the sound of the ocean crashing in the background. Hana, the operations manager, told us that these were generally for educational visits or hiking tours but you can upgrade to these for an extra $25 per night.
Lunch was in the communal area where you make up your own sandwiches and meet the volunteers at Base camp who are working their way around Australia.
After lunch we were off again. The sun was shining and we headed for Lake Wabby.
Fraser has over 102 freshwater lakes but there are only a few that the tourists get to see. Some are accessible and some not. It really is worth taking the advice of your tour guide here. One of the most visited lakes on the island is Lake Mackenzie, but this had now become such a tourist mecca that it has lost its untouched feel. So listen to your guide for the best kept secrets on the island...
Lake Wabby is accessible by a 2.5 km walk through the vastest and expansive sand blows I have ever seen. It really makes you feel very insignificant when surrounded by such awe-inspiring beauty. We really are no bigger than a tiny speck of sand in this huge Universe! Lake Wabby welcomed us with crystal clear fresh water flanked by a backdrop of lush vegetation. It is up to 12 metres deep and with the sun shining there was no excuse not to go for a swim! The lake was pure and refreshing, cold at first but so invigorating. We shared our swim with a couple of catfish, the only ones we saw out of the 13 species of fish that reside in this lake.
Getting out of the lake it was time for a chill in the sun. Looking forward to an hour or so of just laying in this beautiful environment, things took a bit of a turn when we had hairy encounter with a wild dingo!!! Wild dingoes roam freely on Fraser, but Brett told us he hadn't seen one so near to the lake. The dingo started to come towards us, thank goodness Brett was there as he knew what to do. You never run from a dingo, and if you are attacked you attack back with a stick – all sounds good in practice but think I might leave it to Brett to do that!
It was then back to Base Camp for a shower and dinner. A BBQ was on offer that night, cooked courtesy of Brett. There were loads of food, steak, sausages and even a bit of "roo" on offer to try with salad and potatoes. Excellent value considering the price of the trip. So, a few glasses of wine later it was time to take advantage of the local pub. It's walking distance from Base camp, but it adds a new dimension being taken by car to the local pub along the beach, courtesy of our ever-obliging tour guide!
After a good night's sleep it was the second day…Having a company like Trailblazers means that the tours are flexible and spontaneous – which some other tour companies might not be. Trailblazers will change their itinerary to suit the weather conditions. Which is good as it was pouring with rain on the second day… nevertheless, it didn't dampen our spirits! Because of the weather Brett decided to drive inland and he recounted some of the old Aboriginal habits. The Butchala tribe that were indigenous to Fraser made Boomerangs from the black wattle tree. These were used as weapons, recreational and for fishing. When they inhabited the Island they called it K"Gari, which means Paradise. More beautiful sounding than Fraser, named after Eliza Fraser who happened to get shipwrecked on the Island back in 1800's. I had been worried that a tour guide droning on about the history of the place (and me wanting to get off the bus as soon as possible!) would bore me. This did not happen with our rogue tour guide – who delivered it in an interesting but humorous way!
After lunch we headed for Lake Birrabeen. Lake Birrabeen is another outstanding fresh water lake. The weather was being kinder to us and some of the (braver) people on the tour even managed a swim. Birrabeen is one of those places that when you see pictures of the deep blue azure of the lake you just have to go there. Make sure you do. Birrabeen means "medicine woman" in Aboriginal and is a place where miracles can happen….
A rainforest walk rounded the day on the Island. This 3km walk through stunning natural beauty is where we encountered plants and trees that had inhabited the Island for thousands of years. Back at Base camp it was spaghetti bolognese on the menu followed by a roaring campfire outside courtesy of our real life Mick Dundee, Brett!
The final day of the tour and it was an early start. By 7.30 am we were on the bus. The weather had this time taken a turn for the better so there was no other song but Bob Marley "The Sun is Shining" to soundtrack our drive to Indian Head. Halfway along the beach we stopped. "So another way to see this beautiful island is by air" we were told. Air Fraser Island has been running scenic flights over the island for 20 years. In 2010 they were runner-up in the best scenic flights over the whole of Australia. Well for $70 for a 15-minute trip could we resist – no way! Within 10 minutes 7 of us were on board with Nigel our pilot taking off from the beach and flying over Fraser. If you get a chance to do it then put by $70 for the trip as it's recommended as a highlight of the tour!
Back on terra firma and on the bus, we made our way to Indian Head. This is where you find the champagne rock pools - nature's own Jacuzzi. The pools are separated from the sea and the only safe place to swim in the Ocean on Fraser Island. Another must do on a Fraser Island tour. Indian Head itself is the best look out for whales, dolphins and sharks. It is a breathtaking view from this point and reveals the striking, natural beauty of the Fraser Island coastline.
From Indian Head it was on to Eli Creek. A stop on the way to see the famous shipwreck Maheno, a paddle in the creek and lunch. And that was it - the end of our tour. All over too quickly! We headed to Rainbow Beach to catch the ferry and back to Noosa where we had started from 3 days earlier. Back to reality but with fantastic memories that will last forever!
Fraser Island is a place of natural, untouched beauty and a must for all visitors to this part of Queensland, Australia. If you are after an alternative way to see the island then Trailblazers delivers. Their tours are fun and informative .The accommodation is clean and comfortable, the food is delicious and plenty of it. And Mrs 5 star… has been converted!