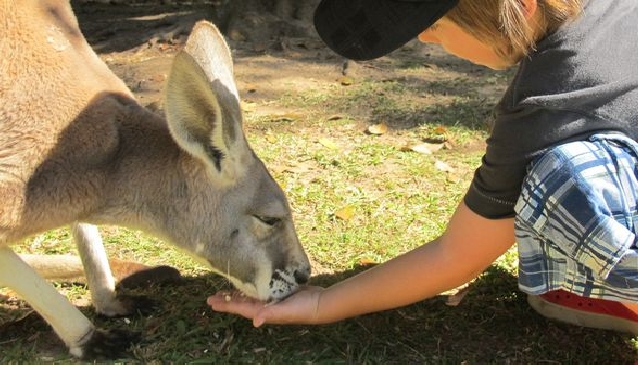 Forget Winnie the Pooh, Let's go to the Zoo!
Family Fun
So, I was set a mission – how do you please 2 six year olds for a birthday day out? Also, throw into the mix that us parents would quite like to enjoy the day out as well! Distance had to be factored into the equation as we were travelling by car from Noosa and our friends travelling by car from Brisbane.
I toyed with some of the Gold Coast attractions but decided it wasn't central enough for both families. We all wanted something fun but not too adrenaline fuelled… and Australia Zoo seemed the best out of all the Sunshine Coast attractions to tick all our boxes. (Plus there was a big sigh of relief from the parents that they didn't have to go on any thrill seeking rides this time…)
So that was it: the date was set!
Australia Zoo is located at 1638 Steve Irwin Way, Beerwah, off the Bruce Highway. It's a 30-minute drive from Noosa and only 60 minutes (76kms) from Brisbane. This makes it an attractive day out for families and visitors alike from Sunshine Coast, Brisbane and Gold Coast. Remember to look out for the CRIKEY billboards along the Bruce Highway so you know you are on the right track!
Australia Zoo was formally known as "Beerwah Reptile and Fauna Park " and owned by the late Steve Irwin's parents in the 1970's. Conservation running in his blood he became more involved in the management of the park. He met Terri Raines who he married in 1992, who also shared his passion for wildlife conservation. The 1990's brought many changes to the Irwin family, and when Steve's parents retired, Steve and Terri changed the name of the wildlife park to Australia Zoo.
As Steve Irwin's reputation grew and revenue came in from his filming as the Crocodile Hunter, Steve and Terri decided to plough money back into the wildlife rescue projects.
Today Australia Zoo is one of the nation's icons and funds various national and international Conservation Projects helping to protect endangered species from crocodiles, tigers, wombats, elephants and cheetahs.
We arrived at the Zoo at around 11 am. As we walked to the entrance there were 2 camels being taken out of the Zoo. After the dad jokes of "don't they look like they have got the hump", we were introduced to Ester and Delilah, the camels, who had the longest eyelashes and seemed very nonplussed at being stroked by the children. It was a lovely welcome and a taste of things to come.
Entry into the zoo was for a family pass of 4 was Aus $172. Individually adults are charged at Aus $59, children at Aus $35 and pensioners Aus $47.00
There are special rates for group bookings and people can ring reception on 07 5436 2000 for further information and for information on special birthday packages.
On entry to the Zoo you can hire strollers or kids trolleys for younger children. The Zoo is big and a definite recommendation for children under 5.
First stop, the alligators. The children were very excited at seeing these prehistoric looking creatures and at first thought they weren't real! They were basking in the sun and as still as statues. It was only when Alison, the grandma of the gators, opened one eye to see what us visitors were up to that the kids squealed that they "were actually alive!!"
On from the Alligators we encountered Neubie. Neubie is an Australian Barking Owl and was sitting on one of the zookeeper's shoulders. Neubie we were told, did not like people in green raincoats or overly tall people! At only 157cms that counted me out but I then understood why this owl was called Barking!
Next stop – the snake house. There are an awful lot of misconceptions about snakes especially from people who have never lived with snakes in their environment. (OK, hands up I admit we are a family from London so we can be included in this!)
The snake house was incredibly informative with both kids showing great interest in where certain snakes lived and in what part of Australia. The information showed the map of Australia with parts in red of where the snakes live. The children learnt what snakes to watch out for in their part of Queensland –with nature it's the least innocuous looking fellows that can do the most damage!
Coming out of the snake house we came across Cato the wombat being walked by another zookeeper. "Watch out," said the Zoo Keeper, "she is very grumpy today ", but he let the kids stroke her back as she grumpily obliged and then went to the toilet – obviously her little protest!
From there we wandered into the bird sanctuary where we were met with an array of tropical, colourful birds. We found out from Krystal, a very helpful worker in the sanctuary that the beautiful Australian male king parrot only develops its striking red head when its 6 months old. Up until then she explained, it is not known whether the bird is male or female. As always in nature it's the males that get to show off with their bright colours - funny how it doesn't work with humans!
From the bird sanctuary it led into the kangaroo enclosure. Our friends had bought some kangaroo feed at the entrance of the Zoo (top tip to remember to do this!) The kids absolutely loved feeding the kangaroos – commenting on how it tickled when they fed them, and how soft the kangaroo's coats were. It was truly amazing being so close to these gorgeous marsupials which are an Australian icon .We were so lucky as well as we saw a female kangaroo with a little Joey in her pouch. "Aww so cute" the kids commented!
On from the kangaroo enclosure we headed to the koala walk. It's hard to believe these beautiful creatures have been made almost extinct from their homeland due to habitat destruction. By this time it was 2pm. Time for a croc show and lunch. We had all decided to bring our own lunch. We had visited the Zoo back in December 2008 as visiting tourists and had queued for over an hour to get lunch. This time, being winter the restaurant area was very quiet and would not have been quite as stressful as back then in the high season!
The croc show was highly entertaining with the kids commenting on the alligators in the pools. Yes they are saltwater crocs - so a bit more education needed for the little ones! It was time for Aggro, the croc to be fed. Steve Irwin aptly named Aggro because; he was, well a bit of aggro to capture! They fed him a chicken carcass and informed us how one person per year dies from a saltwater croc attack. Judging by the way Aggro was tearing into the chicken carcass, hopefully that unfortunate person wouldn't feel too much!
It's these nuggets of information from the very helpful workers at the zoo, which makes the visit stand out as an interactive experience. The wealth of knowledge these workers have and their obvious dedication really shines out from them.
Walking from the croc show there is a tribute area to Steve Irwin. You cannot help but feel choked when you see the outpouring of grief his death caused – and it makes you realise his passion for conservation is being carried on by all who are involved at Australia Zoo.
After lunch it was time to visit Asia! Two huge Buddha's flank the entrance with a massive statue of the Hindu elephant god Ganesh.
Our first encounter in the Asia enclosure was with the endangered red panda. This small creature (which bears no resemblance to his Chinese cousin!) again is in threat of extinction because of, yes - you guessed it habitat destruction. You can't help but wonder why man is so hell bent on ruining these wonderful creatures' homes. Then you remember it's for development, which equals money which equals disregard for nature and the environment.
Moving on we encountered the tiger enclosure. Within the enclosure sat 2 zookeepers having chat on a bench. We laughed as 3 tigers surrounded them, but they didn't seem to think it a problem. These magnificent creatures are again threatened with extinction.
By then we had 2 tired 6 year olds on our hands. The shuttle seemed the best way back to the exit. We waited 5 minutes before the shuttle arrived and we were driven to the exit. As with all these kind of attractions you exit through a gift shop.
Looking around, as a parent, I was slightly disappointed to see a lot of brand Bindi and Robert and not too much on the educational side of the Zoo. The kids didn't seem to mind though! We gave the kids a (strict) budget and they chose their respective gifts.
A round up of the day – Australia Zoo is a fantastic, educational day out for all. The kangaroo feeding definitely being the highlight for our 2 kids.
Australia Zoo is working hard and is passionate about conservation with the AFRICA enclosure opening in September 2011. AFRICA will offer the public the chance to meet Queensland first Southern White Rhino calf, Savannah. Stage one of the development will be an African safari: a first for Queensland. So long as this part of the Australia Zoo brand shines through they are surely remaining true to Steve Irwin's legacy.
So was my mission accomplished – CRIKEY, yes!
For more information on our lovely part of the world, come visit us at My Guide Sunshine Coast.
Niki Deighton, My Guide Sunshine Coast
August 2011