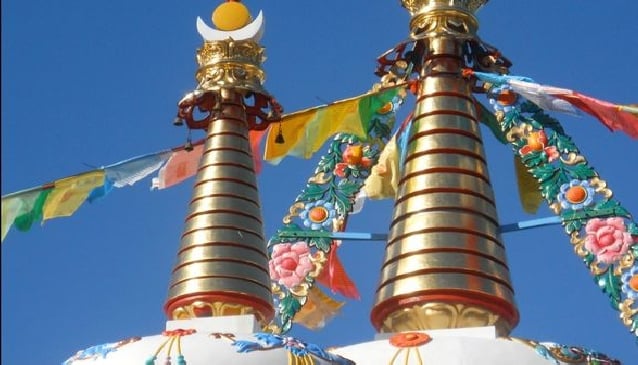 The Day the Sunshine Coast Turned Orange
Sunshine Coast
It's not been on my hit list as one of things to do before I die but when I received an out of the blue phone call inviting me to see the Dalai Lama appearing at a venue on the Sunshine Coast I jumped at the opportunity.
I must admit to having some hesitation and more than a pinch of cynicism at some of these overly advertised, heavily sponsored visits from religious and spiritual leaders, but Buddhism being one of the belief systems I lean to, I decided it was time to embrace the opportunity.
So that I did.
First off the venue ticked the boxes. Not some big football stadium where His Holiness could bellow his spiritual guidance to one and all over megaphones. No, this was at the far more tranquil Chenrezig Institute. Chenrezig in nestled in the lush hinterland of the Sunshine Coast in a blink-and-you'll-miss-it town called Eudlo. Chenrezig is a centre for Buddhist study, retreat, meditation and practice. Established in 1974 it is now home to a large community of Sangha (nuns and monks), students, residents and volunteers. It not only offers study but also accommodation in and around the community, or the opportunity to drop in and enjoy the peaceful surroundings.
The Dalai Lama was at the institute as part of his Australian visit to bless the 8 stupahs (these are memorials to depict the 8 great deeds of Buddha) in the Garden of Enlightenment at Chenrezig, and to talk about compassion and everyday kindness.
Not knowing what to expect on arrival to the town it became apparent this was quite a bit of a "do" (mind you after looking at the Dalai Lama's Facebook page he has 3.5 million "likes" so I should have known better!) Parking in a nearby layby, (my friend and I decided against the car park – too many festivals and concerts have taught us to think après the event!) we were ushered with other attendees onto buses laid on and included in the ticket price (30 aus dollars / 50 aus dollars depending on where you sat), I started to feel like I was on an exciting school journey!
The information on the event had been quite strict about what could or couldn't be taken into the retreat with strict bag searches in place. In reality the searches were very low key but a sad sign of the times that these procedures have to be instigated.
Food and gift stalls greeted us with an array of rainbow coloured clothed people, shaved heads and orange robes on arrival to the institute where I noticed a twinge of cynicism returning as I eyed up some (very) tacky Buddhist memorabilia. Determined to be open minded we wondered up into the main stage area where we waited for his Holiness. I would say they were a few thousand people gathered here, but it did not feel cramped or claustrophobic and there was a genuine feel good atmosphere. The weather had also blessed us at this outdoor event with beautiful winter sunshine warming us as we sat and waited in the plastic chairs provided.
The Dalai Lama was due on stage at around 12.30 and events kicked off with local aborigine Lyndon Davies and his Gubbi Gubbi dancers performing a welcome dance to the Dalai Lama. After the dance his Holiness entertained us with deciding where to sit on the stage and was already engaging the crowd with a humorous glint in his eye!
So where do I start with what his Holiness had to say? I would not do the Dalai Lama the injustice of trying to interpret everything he said, but here is my take on it.
This very educated and switched on 80 year old (who by his own admission having refugee status as he put it – has had the opportunities to embrace all sorts of cultures), began with talking about the last hundred years of external influences and how technology had evolved, but how our neurons on the brain were still the same. I noticed the calmness in his voice, he wasn't ranting or preaching, just talking about the changes that have arisen in the last century - it could have been a chat between friends except I was watching him on a large screen…
He went on to say how even though our life may be easier with the technological revolution the external influences still challenged us with stress, fear and worry. Material wealth will not bring us happiness and drugs and alcohol provide temporary relief from the worries of everyday life (I hope that means I can still have a glass of wine or 2 on a Friday night though!)
The Dalai Lama recounted a billionaire friend who had everything money could buy, from private islands to private jets but how he seemed to have accumulated many friends along the way – were they real friends or friends of fortune he asked, the audience laughed at this as did the Dalai Lama. He liked to laugh at his own jokes and not take himself too seriously!
He spoke of how it has been scientifically proven that a healthy mind equals a healthy body and how to be kind to fellow humankind. Not to judge different races and religions but to respect their belief systems. Even the non believer must be respected as that is their belief. My thoughts turned to war and conflict in religion which was great timing as it was then time for questions and answers from the many students from schools along the Sunshine Coast that had been invited to the event.
War, according to the Dalai Lama, is organised or in some case is legalised violence. He went on to speak about Libya where the uprising is because the Middle East is moving on and the people want democracy which is their right. It became apparent that the Dalai Lama saw the students as the future – he said "You are from the 21st century; those of you who are 20 or 30 years old are all from the 21st century. You are the future and who can make change. I am from the 20th century" and he laughed again. "Think and make significant contributions – which I will tell you". Fantastic, I am relegated in my 40's to the last century!
The event finished with thank you's from Ailsa Cameron, a Sangha at Chenrezig, to all involved in what had been a 9 month mission of organisation from councils, to the people of Eudlo, volunteers and members of the chenrezig institute who had supported the event. The Dalai Lama thanked and blessed those involved and gave them white robes. And that was it he left – in a helicopter and we all waved as he circled around our heads and off to his next visit. Walking around the stage where he had sat their was a feeling of calmness and genuine love for this Spiritual leader.
Walking back to the car we were approached by a Tibetan family who lived in Brisbane. Could we give them a lift to village? A slight hesitation on my behalf (hey I am still a Londoner), but gladly complied. How very compassionate of you, my friend commented – it was and it felt good.