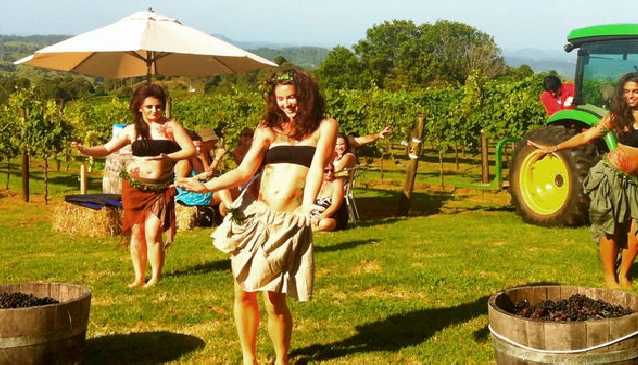 Let's STOMP! On the Sunshine Coast...
Sunshine Coast
The sound of tribal drumming is filling the air high up in the mountains of the Sunshine Coast. Other-worldly Wine Nymphs adorned in body paint are arriving by tractor and guests are rolling up their trousers and removing strappy sandals ready to jump into barrels filled with crimson grapes.
Where can you find a crowd of some 300 revellers on a hilltop one gorgeous Queensland, February afternoon? What inspires locals to dress up in purple togas and homemade crowns of golden laurel leaves? It can only be the unforgettable experience of dancing knee deep in grapes!
Welcome to the STOMP 2012 Harvest Festival at the beautiful Flame Hill Vineyard, which is one of the best events in the Sunshine Coast. STOMP is a unique event where you can find yourself dancing on a hilltop, 420 metres above sea level, as you celebrate the vineyard's latest harvest and most importantly, STOMP on some grapes! The ritual of the Flame Hill Grape Harvest brings music to the mountains and ancient wine goddesses to life.
You can find Flame Hill Vineyard, just down the road from the favourite tourist village of Montville - often known as a little slice of Europe in the mountains of the Sunshine Coast. Many make the yearly pilgrimage from near and afar to celebrate at the vineyard's idyllic mountain ridge location. It's a postcard perfect escape with sweeping endless views over vines, rolling hills of the Obi Obi Valley and the sparkling Coral Sea. You can't help feeling like you're on top of the world here as you savour the vineyard's wines with the view from Montville's highest peak.
At STOMP, guests settle in for an indulgent long day of Flame Hill's signature gourmet food, award winning wines, music and zany entertainment. There is casual dining on the terrace or a fine dining experience in the gorgeous setting of the Flame Hill Vineyard restaurant to enjoy.
On the terrace the atmosphere is buzzing with large tables sampling Flame Hill Shiraz with their mouth-watering gourmet burgers that show off the famous grass fed Flame Hill Farm Beef. Others enjoy Flame Hill Verdelho while feasting on Mooloolaba King Prawns, so fresh they could have just jumped from the sea.
Those in the know, book a table at Flame Hill Vineyard's A La Carte restaurant during STOMP and linger over a dreamy long lunch on the Queenslander's deck and embrace the stunning views. The restaurant is a gourmet paddock to plate experience using produce from the vineyards own 300 acre working cattle farm.
After lunch you're free to wander through the vines following free range guinea fowl, pull up a picnic rug or hay bale and listen to live jazz. Half wine barrels, filled with Shiraz grapes and covered with cloth, tease patrons of the stomping ritual yet to come.
The Harvest ritual starts to the sound of bongo beats. Guests gather in anticipation for the STOMP ceremony to begin! The crowd has been waiting for the arrival of the Vineyard Greek Goddesses decorated in tribal body paint to kick of the celebration's wilder event. It's a grand entrance through the vines by tractor and it doesn't take long for these Flame Hill wine nymphs to create magic with their entrancing tribal dance. Suddenly, the goddesses climb delicately atop the mound of sparkling grapes in each barrel, signalling the STOMP is on and all are invited to take part in a rite of winemaking passage as old as these hills.
Festival guests lose all inhibitions as they try and hold their balance in the warm, squishy, harvest. You have to stomp harder with passion and purpose – all this after a couple of bottles of Flame Hill's finest to either help or hinder you along!
Does life get much better than an afternoon spent basking in the sunshine, wine in hand with sweeping endless views? Add the excitement and laughter of the Grape STOMP and it's the perfect day out for a romantic adventure, family event or celebration with a group of friends. Children are welcome. They are likely to be found grabbing a bongo or tambourine when the tribal beats of the amazing Human Rhythm performers take the lawn by storm.
Entry to the STOMP Harvest Festival costs just $25 with Children under 12 free. All guests take home their own Flame Hill Glass, an experience to last a lifetime and grape stained feet....
Flame Hill has a philosophy of using fresh regional produce matched to estate grown wines. The Flame Hill Vineyard selection is a wine lover's paradise with Chardonnay, Verdelho, Cabernet Sauvignon and Shiraz grape varieties grown in the rich volcanic soil of the vineyard's hills. Other grape varieties are sourced locally to create an award winning collection of 16 wines.
Make sure you try the Flame Hill Crimson, a gorgeous light chilled red – my pick for this bacchanalian affair and an afternoon of sunshine in the hills.
It's definitely worth planning a visit to the Sunshine Coast just to experience the Flame Hill STOMP and depending on your level of festival spirit, Flame Hill recommends the B&B accommodation in Western Avenue nearby. After all – staying rolling distance from the vineyard may be ideal.
The picturesque setting of Flame Hill Winery with wine tasting at the Cellar door is a must stop tourist favourite in Montville.Even more delectable is to follow your tasting experience with a sublime long lunch in the Flame Hill Vineyard restaurant taking in the view.
Visitors may order a platter to enjoy on the terrace post tasting or a gourmet picnic basket can be pre-ordered, to pick up when you select your favourite bottle from the Cellar Door. Then you can enjoy your own romantic picnic spot in the vineyard or wander further to find your own breathtaking hinterland hill.
For more information on our lovely part of the world, come visit us at My Guide Sunshine Coast.
Kylie Reading Rowe, My Guide Sunshine Coast.
February 2012